Focus on the emotional value you offer your customers to get them to look at the artist behind the jewelry.
Dear Lilian,
We are studio designers and make one of a kind pieces. We're not Cartier, but from a technical and creative perspective, we can compete with Cartier. How do we encourage customers to begin looking at the artist behind the jewelry?
From A Master Artist in New Mexico
---
Masaa' al-khair, my dear readers! This is Egyptian Arabic for "good afternoon." To which you'd reply, "Masaa'An-nur!"
Why am I greeting you in Egyptian Arabic? Because I just had an absolutely fabulous 16-day 40th birthday adventure through the Land of the Pharaohs in December and January and I can't stop thanking my personal tour guide, Mahmoud Saad Sobeih of Koki Tours. I also can't help but curse him because clearly every birthday after this one is just going to suck in comparison!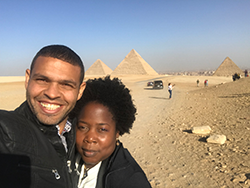 In any case, Mahmoud and I had a conversation similar to this latest PR Advisor question from a talented jewelry artist I spoke with in Las Vegas.
Mahmoud planned an extraordinary three days for me in Cairo, where he introduced me to people and places you'd never find on traditional tours, yet he was barely breaking even given how little he charged. I ended up paying double his fee in tips because of how beautifully unexpected my experience was.
He felt he couldn't charge me outright what I ultimately paid because other Egyptian tour guides charged less. He was trying to be like everyone else and base his fee on a number rather than the experience he provided — or more specifically, how much I valued the experience.
And herein lies a common business mistake: you can never be like anyone else. You can only be yourself. And as yourself, you must focus on the emotional value you offer your customers.
Jewelry is one of the most personal things women own. Every important piece in a jewelry box has a reason for being there. And for one-of-a-kind gems, that piece also has a story unique to the designer.
When a customer buys one of your pieces, do they know the reason why you made that piece? Do they know about the hunt for the stone, the inspiration for the engravements, even the passion you felt as you shaped that bracelet?
If you want your customers to look at the artist behind the jewelry, then you must introduce them to the artist. And not just with a simple bio.
One of my favorite studio designers is Claudio Pino. After I placed his jewelry on Lenny Kravitz and Stanley Tucci's characters in the movie, The Hunger Games: Catching Fire, Claudio gifted me with my most prized ring.
I know the discovery story behind the Australian Opal that serves as centerpiece; what went through Claudio's mind as he tried to figure out which of his designs would best suit my personality; and how he ended up creating an entirely new design because I was too inimitable to have something that already existed (if I do say so myself!). This knowledge makes me appreciate the ring – and Claudio – a little bit more than anything else I own and also makes me tell everyone about him.
My advice for you is to hire a very capable writer who can weave magic with words. Pull out your next 20 production orders, sit with your enchantress writer and tell her the story behind each piece.
How did you come up with the design? Where is the stone from? Why this stone? Was the design inspired by travel? Do you have pictures from the travel? What were you feeling as you worked on the piece? Were you angry at someone? Were you deeply in love? Were you hungry but couldn't stop working until that piece was done?
Give that bracelet a life! Make that ring a star of a special story known only to you and the woman who will flaunt it on her fingers! Let your customer be able to share the secret, before-life story of that necklace for which so many people will compliment!
Voice your story with all the pain, passion and pleasure you experienced in the creation process. Then take your finished magical script, jazz it up with related pictures, and include it as an enveloped personal note addressed to "The Future Owner of a Piece of My Soul."
Keep the story a secret between you and the jewel's destined owner. Seeing it on your website in advance will diminish the pleasure she'll receive reading the story while cherishing her new treasure. And since you only create one-of-a-kind jewelry, she will regard the story that much more intimately.
Did you see "Phantom Thread?" Daniel Day Lewis's obsessive fashion designer character understood personalization at the highest level. Every custom gown he made held a unique message, known only to he and the customer, sewn discreetly into the dress. How do you think his customers felt when they stumbled across his message, visible only to them?
Every brand features a designer's story, but very few have a personal story about each piece. And while Cartier happens to be my favorite brand (mainly because their mascot leopard is my favorite animal), they are unable to create that kind of intimate knowledge with their jewelry precisely because they're too big.
I love my Cartier Roadster as it was the first luxury watch I bought after years of promising it to myself once my company became significant. But damned if I know who on the Cartier team created it!
Forget Marilyn Monroe's "Diamonds Are a Girl's Best Friend" rendition and stop comparing yourself to Cartier, Tiffany's and Harry Winston!
Focus instead on what you want your customer to feel as she unwraps the little bit of you that's spiritually imprinted in your designs.
As more of your customers get to know you through these personal notes, they will share the story of you with others.
Now, off to figure out how I plan to outdo my 40th birthday come December when my 41st arrives. I'm thinking maybe I'll become the girl from Ipanema…
If any of you have a desire to go to Egypt, email me so I may introduce you to Mahmoud and the others that made my trip so special. And by the way, this is the kind of endorsement your customers will give you when you make their purchase meaningful.
As always, lovelies, send me your most press PR and marketing questions!