Luxury will forever be defined by exclusivity, yet luxury brands must also embrace a new E-word: experience.
I read a New York Times restaurant review for Masa, arguably one of the best Japanese restaurants in New York City. The article caught my eye as Masa made our short list when my company was tasked with putting together a press dinner for S.T. Dupont.
As the CEO of the 112 year old French company was flying in from Paris to attend this affair, we were determined to have the dinner at one of New York's finest. But Masa's $40,000 demand for a dinner that would serve just 15 people put it out of the running as other 2 and 3 Michelin-rated restaurants Per Se, Jean George, Le Bernadin and Gordon Ramsey at The London Hotel came closer to our budget. Anyway, this was my first experience with Masa, and I haven't since forgotten it. So when I ran across this review where Masa lost one of its four prized stars, I paid close attention.
Apparently, Masa had earned the four stars in its first year of business. The reviewer Sam Sifton never questions the quality his meal, describing his dining as one spent "in a fog of pleasure, sitting dumbfounded on the shores of excess."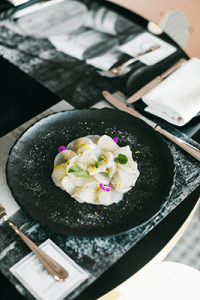 What cost Masa one of its stars was the experiences Mr. Sifton encountered over multiple meals in a 12 month span. The service received, he suggests, was not befitting of a $1,500 dinner for two, despite the flawlessness of the meal itself.
To quote, "Bruised by recession, wizened by experience, gun-shy about the future, New York City now demands of its four-star restaurants an understanding that culture at its highest must never feel transactional, whatever its cost. We ascend to these heavens for total respite from the world below, for extraordinary service and luxuriant atmosphere as much as for the quality of the food prepared."
Thus begs the questions: when is luxury worth it?
To be sure, owning a Master Complication from a timepiece manufacturer such as Jaeger LeCoultre, with its many intricacies and dizzying display of horlogerie know-how is enough to make a salivating timepiece aficionado spend in excess to acquire such a masterpiece.
But if this same aficionado visits a Jaeger LeCoultre salon only to be mistreated by the staff, say because he was ill dressed, would that not change his perception of the brand and make him reconsider spending his money elsewhere?
Having worked in luxury retail before, this hypothesis is one of frequent discussion.
The most loyal customers were won to sales associates who choose not to judge a book by its cover, and instead offer the same level of service often reserved for the obviously wealthy to everyone encountered. And often, the story shared by the particular customer is how he's frequently mistreated by other luxury sales associates because he didn't dress the part. The sales associate who looked beyond this to treat him exceptionally well now has the loyalty of a very wealthy benefactor.
Times have changed considerably. It no longer behooves anyone to maintain an attitude of snobbery and exclusion when selling luxury products. That luxury will forever be defined by exclusivity is a given, yet luxury brands must also embrace a new E-word: experience.
In its own way, the recession ensured only the strongest luxury brands survived after an era of bastardized concepts of luxury and designer branded luxury toilet paper; yet companies remaining need to take Mr. Sifton's review as a note of caution.
Positive buying experiences will always trump any misstep by a company. Positive buying experiences always make spending just a little more money worth it.
In my retail experience, I was often told by my luxury clients that they hadn't initially intended on spending as much as they did; but I somehow made them feel comfortable enough to trust my lead and accept my recommendation that perhaps the wife would prefer a Cartier Tank American in pink gold to the stainless steel Tank Francais.
And when my clients had issues with getting a watch serviced, my responding quickly to their concerns kept their continued loyalty. Mind you, I didn't go to any watch company's service department and ring their ears – I only made my clients feel they were valued beyond just their purchase.
Loyalty is the name of the game when trying to create brand preference in the heart of luxury buyers. And so for a purchase to be worth it – worth it enough for a buyer to continue buying additional merchandise from that same company – the experience must be worth it.
Otherwise, despite the painstaking effort a company enlists to produce a masterpiece, the item will always remain just an inanimate object until the company can evoke emotion from luxury buyers. Only when passion is created is luxury worth it.
As for the location of our press dinner mentioned earlier in this piece, we chose Gordon Ramsey at The London Hotel instead of the three other French restaurants on our list. The selection wasn't based on price, as all of them were comparable, save for one that bid significantly less than Gordon Ramsey.
Truth be told, the obvious choice should have been a French restaurant given the legacy of our client's brand. Yet in our dealing with Gordon Ramsey's Director of Sales and Marketing, Sanda Josopovic, we were seduced by our experience with her during the bidding process.
Mrs. Josopovic made us feel passionate about the British restaurant, and convinced us to throw away the obvious. And in turn, she helped us deliver an extraordinary event that left no one questioning our choice of locale.
Luxury brands must strive for this type of seduction. Not just in their advertising, but also instill it in every representative of the brand who comes in contact with potential buyers – from the sales associates who handle the final transaction to the service people who are called on for after purchase needs.