Profiling Alexis Bittar: Street Merchant Turned Global Giant
A quick internet search will reveal just about every detail of Alexis Bittar's reign as the Lucite King — thus hailed by Dawn Mello, former Bergdorf Goodman president, in a New York Times article. So when I sat down to interview Bittar, I insisted he tell me something that hasn't already been covered.
"Janet Goldman was my first order."
Really? Fragment's Janet Goldman?
"Yes! For 15 years, I had an antique quilt that I would lay out on the street in SoHo, selling my handmade jewelry. This was in the early 80s, back before what you see now in SoHo. No one else was doing it at that time – it was just me and two other vendors," Bittar recalled.
"I used to set up the quilt on the corner of Prince and Greene [in front of the original Fragments location]. I wasn't sure if I wanted to sell to stores at that time. But one day, I decided to show Janet and Jimmy my collection. They bought on the spot. Janet was my first order and she put my pieces in Bendel."
Never in a million years could one imagine any of the jewelry vendors adorning the Lower Manhattan streets of SoHo on any given Sunday would one day build an empire as vast as Bittar's. But that's exactly what's happened.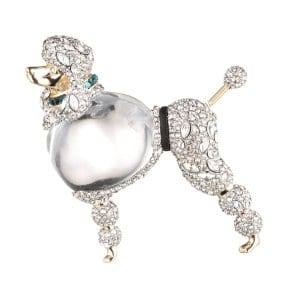 With presence in all major U.S. department stores (including Bloomingdales, Neiman Marcus, Nordstrom, and Saks Fifth Avenue), as well as hundreds of independent retailers across 40 countries in five continents — not to mention his thirteen Alexis Bittar boutiques up and down both coasts — Bittar is living a dream.
"I never went to fashion school, never learned the traditional ways of building a business. I never even had a real job before. I went from selling on the street to opening my company."
The rest, as they say, is history.
Which is fitting, really, as Bittar has a profound love of history, and particularly, jewelry with its own history.
Introduced to antiques by his dealer parents, Bittar's first bauble love came from sifting through a pile of antique jewelry at age 11. He was mesmerized by the detailed, sculptural eloquence of vintage craftsmanship — something rarely seen in today's modern jewelry. An exploration of Bakelite's use in jewelry design in 1930s lead him to his signature material, Lucite.
Inspired by Bakelite's transformation from an industrial product to a fashion accessory, Bittar similarly restyled Lucite, applying to the industrial plastic Lalique's technique of carving and fusing glass. Twenty-five years later, he remains obsessed with the versatile material, finding new dimensions for sculpting and manipulating its vast potential for optical color play.
Beyond craftsmanship, however, Bittar admitted the legacy of a vintage piece is often a bigger appeal for him.
"Whether it's Georgian or Victorian, or 1700s or 1960s, there's so much history in these little miniscule sculptures that I find intriguing. Not only in how they were created, but how they get passed from person to person. There's so much transferred history," Bittar enthused. "When you're holding an antique piece of jewelry and it's 150 years old, there's a feeling of wanting to cherish it. You become amazed at how it's made it through all of these years to now be in your hand."
Bittar's profound respect for legacy is, perhaps, behind his fondness for using older models in advertising campaigns.
"In the years I've spent in this business, doing 15 personal appointments per year and meeting thousands of women, I realized most women have a real shade about their age. This is really being compounded and driven home by advertising and images in the media. I started getting very political about showing more mature women in advertising."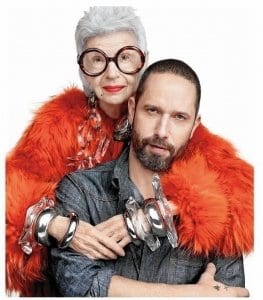 Six years ago, the legendary Joan Collins became his first mature muse, followed by original supermodel, Lauren Hutton. Up next were Jennifer Saunders and Joanna Lumley, the iconic stars of British sitcom, Absolutely Fabulous.
"I want to fight the message of looking at a 20 year old model — whose images have been retouched — and having all women look at that that one age like this is what we all need to look like. Yes, the 20 year old is beautiful — and so is the 28 year old and so is the 35 year old, and the 48 year old and 55 year old. It's just a horrific thing to watch the world forget women 35 to 95."
The latest ad campaign pairs youth with experience, bringing together wunderkind Tavi Gavinson with the queen mother of fashion, Iris Apfel. With this campaign, Bittar wanted to show a 19 year old still at the beginning of an already notable career alongside an illustrious, galvanizing 93 year old, whose own career doesn't look to be ending any time soon.
"I wanted to show the breadth of age," Bittar explained. "To look at age as something to celebrate; that what a person accomplishes in their lifetime is much sexier than trying to force yourself to fit into a box to look younger and younger. And to really look at having a full life –whatever that means — whether running for politics or having an amazing family, whatever that accomplishment means to you."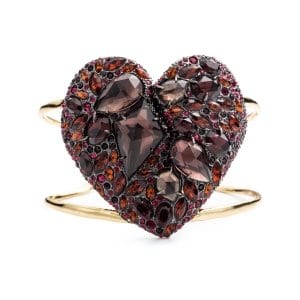 And of his own accomplishment, from literally selling off Manhattan streets on his antique quilt to having both the First Lady and Lady Gaga as loyal customers, Bittar doesn't hide the challenges it took to get to where he is now.
Amongst pushing past an insecurity surrounding his unconventional start and having to learn to trust his own instincts regarding his designs, Bittar also struggled with his lack of formal business training.
In 2004, after being named "Rising Star of the Year" by the Accessories Council of Excellence, he was advised that if he really wanted to grow, he needed to bring in an expert who knew the business side of the industry. Bittar hired as both his COO and CFO an executive skilled at managing big businesses, but unskilled in the significantly different nuances of a small, growing business. It was a disaster that almost bankrupted the company. Yet the experience was not without a silver lining.
"It taught me that I needed to understand every aspect of my business – there was no passing it on," Bittar said. "I had to learn everything and not be afraid about it. I became a micromanager, which is always seen as a negative term, but if you're an entrepreneur and not a micromanager, you're probably going to go under. I ended up becoming much more successful as a result."
And as a result, he now celebrates his 25th year. With a growing staff of over 400 employees, a recent partnership with private equity firm TSG Consumer Partners LLC to support his expansion plans, and the loyalty (and deep pocket books) of women over age 35, Bittar will certainly be around for another 25 years.
Unfortunately, the same can't be said of Fragments, which recently stopped operations.
"It is an end of an era. Janet was an institution and Fragments was an institution. Janet and Jimmy really loved finding young designers. She was definitely a godmother to a lot of independent designers. I love you, Janet!"