~ If you limit yourself only to what seems possible or reasonable, you disconnect yourself from what you truly want, and all that is left is compromise. – Robert Fritz ~
Irritation is an Invitation to Be Better, or How I Became a Morning Person
It started with the pool. That damned pool.
The new owners of my recently acquired housing complex decided renovations were in order. After 18 years of living here, I couldn't agree more. Until I discovered renovations would begin promptly at 7:30am, with the world's most punctual contractors™ hammering, drilling and sawing away before the sun had barely risen, much less myself.
As a night owl, I'll often work until 3 or 4am. Unless I have a business meeting or a conference call, I usually get up around 9 or 10am — the benefits of working from home and having a virtual team.
When they began renovating that damned pool, my delightful Alexa-enabled alarm was replaced by jackhammers. Even on Saturdays and Sundays.
In my second week of sleep deprivation, I began plotting sabotage. Until I realized this would only delay, and not stop, the renovations.
By the third week, my irritation had grown to a crescendo. I had to do something differently.
I began going to bed much earlier and rising by 7am. And contrary to what I'd always believed, my thinking is just as sharp early in the morning as it is late at night.
Which brings us to the jackhammers in business.
One of my jewelry design clients also operate a hectic jewelry repair business. Everyone in their city goes to them for jewelry repair, including other jewelry designers and manufacturers.
When we met, they told me they wanted to focus more on jewelry designing and less on repair. However, their overwhelming repair work limited their available time to design.
I instructed them to list every repair service they provided, then to select the work they hated doing and/or were least profitable. Their irritations. Their jackhammers.
Triple the prices on those services, I recommended.
Demand for those services eventually decreased, while profit margins increased from customers undeterred by the new prices. The decreased demand subsequently freed up time for them to focus on their jewelry design business.
---
Irritations are invitations to evolve in ways we would never have conceived if not out of necessity. They create problems for us that require a surrender of our comfort zones if we ever want to find true comfort again.
What is irritating you now in your business? If you say nothing, you're either lying or are in deep denial. I know this because every business owner wants their company to be the best. Even if you're already at the top of your industry, you still want (or should want) to be better, if only to maintain a comfortable distance between you and the next best – who I assure you definitely aspires to surpass you.
Take some time to write out all the things that irritate you about your business. Every week or month, choose one item and ask yourself, what can I do about this? How can I make this issue less irritating? How would doing so make my business better?
Your answers to these questions will guide your next step.
If you're so inclined, you're welcome to share your list with me and freely utilize the sharper thinking my own personal irritation has created. I'm happy to help you brainstorm solutions to one irritation.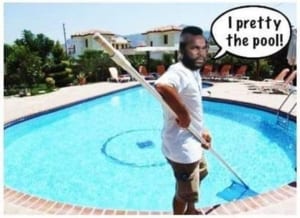 In the meantime, I'm going to enjoy the newly renovated pool, paid for by my sleep deprivation. See you in two weeks!
---