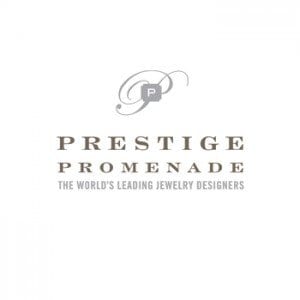 Prestige Promenade is a consortium of 61 international jewelry companies that exhibit together at JCK Las Vegas, the largest jewelry trade show in the United States.  Understanding the importance social media, and particularly Facebook, plays in supporting in store sales, Prestige Promenade came to us with the challenge of creating one unified social voice to speak for 61 very different jewelry companies.  We were also given the added challenge of growing their Facebook fan page organically and without the added benefit of Facebook advertising.
61 companies is a lot to manage, especially when every member has their own unique approach.  Some only worked with diamonds, while others refused diamonds and just worked with colored stones. Some refused stones all together and stuck with gold, silver or platinum.  Some sold their jewelry at $500, while others sold at $500,000.  It was truly a potpourri of creativity and perspectives.  The only thing all had in common is that they are all extraordinary jewelers.  This became the focal point of our content management strategy.
To grow the Facebook page organically, we had to consider what would spark enough interest from existing fans to encourage them to share our posts with their friends.  We again focused on the common denominator of jewelry and conceptualized four themed days per week, creating member jewelry-rich content based on these themes:
On Runway Sundays, Prestige Promenade member jewels are paired with equally extraordinary designer dresses from the current seasons' runway show.
Mondays were reserved for Member Profiles, where we told the story of one Prestige Promenade member while illustrating with some of their amazing gems.
Wow Wednesday featured the most astonishing gems from members, where price points reached into the millions
We introduced Friend Fridays when Prestige Promenade members told us they wanted to highlight their relationships with various retailers.  We profiled select retailers on Fridays, supplementing their stories with images of jewelry they carried from members.
 We also created special content throughout the year, including our Emmy, Golden Globes and Academy Awards pre and post show red carpet coverage;  in person perspectives of the jewelry,with pictures taken at the studios of Prestige Promenade members; magazine inspired spreads; member jewelry to rival those up for auction at Sotheby's and Christie's; and many more themes inspired by what was currently trending.
Our content management strategy has paid off handsomely, with the Prestige Promenade Facebook page regularly seeing triple digit organic growth as the original content we've created continues to be shared amongst fans while encouraging new fans to like the page – all without paying for Facebook advertising.