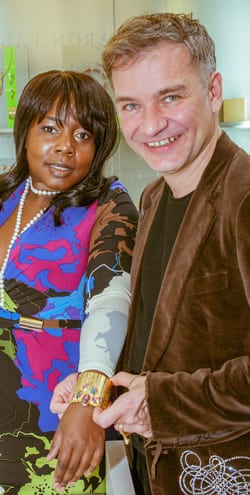 Lilian Raji with Peter Schmid of Atelier Zobel for our client Aaron Faber Gallery's Dramatic Jewelry: The 5 Masters Exhibition
— LILIAN M RAJI —
I am intelligent and street smart.  Cunning and calculating.  I love risk, but only when I've calculated that there's no way I can lose.  On the rare occasions I do lose, I learn my lesson well and live to fight another day.
My word is my bond, so I choose my loyalties very carefully.
I am a quintessential problem solver, with a personal collection of over 3,000 books to ensure I never stop learning and never stop discovering new points of view.
I am also a neurotic Type A perfectionist who will bleed before disappointing someone who's placed their faith in me.
I am a woman of varied tastes and interests.  I used to street race with my 305 horsepower, 8 cylinder engine Trans Am.  Now I relax by learning how to wield a Samurai sword through the sword fighting art of Shinkendo.
Unless they're sneakers, you will never see me in anything less than 5" heels.
Well read.  Open minded. Good company.  And of course, charming.  If you don't laugh at least once in my presence, then you're not really paying attention.  😉
I have a genuine interest in the life stories of people, and I live to see the people around me reach their fullest potential.  This translates as well to our clients.
And, of course, I'm the President and Founder of The Lilian Raji Agency.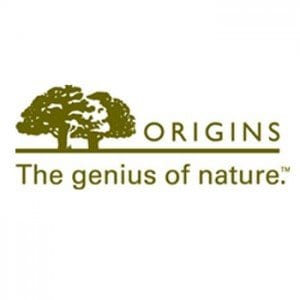 I met Lilian Raji at a conference where she was being honored as International Emerging Leader of the Year, and subsequently hired her to manage media relations and launch for our new store opening in Atlanta. From beginning to end, Lilian and her team ensured everything was done correctly – from coming in under budget for the launch coordination, to ensuring premium media presence, to voluntarily preparing an ROI statement that validated our decision to hire her company.
Trenesa Danuser
VP of Global Communications and Strategic Alliances
The Estee Lauder Companies, Origins and Ojon
ABOUT LILIAN M RAJI
Lilian Raji began her career in public relations as an intern at a local boutique agency, where she was quickly retained as a contract account executive, working on such accounts as The Palm Restaurant, Simon Property Group, Swissôtel Chicago, Raffles International Hotels & Resorts L'Ermitage Beverly Hills, The Hamilton Crowne Plaza, IndeCorp Hotels Group and Vespa Motor Scooters.  She left the boutique to begin freelancing in public relations while working simultaneously at Tourneau, the largest luxury watch retailer in the world.
As the second highest sales producer in the Atlanta Tourneau store, contributing $700,000 to the store's 2004 gross sales, Lilian was in an ideal position to witness firsthand what marketing tactics were most successful in getting consumers to ask for a particular brand by name. She learned which marketing campaigns drew the most customers, and identified key tactics leading to their success.  In January 2005, Lilian left Tourneau to launch The Lilian Raji Agency, taking with her extensive knowledge, experience, and proven strategies to inspire work for her clients.
In 2007, Lilian was retained by the French Trade Commission to advise French luxury manufactures interested in entering the U.S. on best marketing practices. She's consulted with such esteemed French companies as Jean Marc Garel, Marchak, Umane Paris, Dihn Van and several others.  Through her company, Lilian continues to partner with the French Embassy Trade Commission on different projects, including the French Pavilion at the 2009 Couture Trade Show and their annual Jewels of France Exhibition, a multi-city trunk show featuring the crème de la crème of French fine jewelry.
In 2012, The Lilian Raji Agency was tapped by the Quebec Government Delegation for a massive task to introduce 14 of Quebec's most promising jewelry artists to the U.S. market. Through a series of strategic counsel, creative designs, and impeccable project execution, Lilian lead delivery of impactful results that have since earned her agency full endorsement of the Quebec Government Delegation.
Lilian has served on event committees for Ted Turner's Captain Planet Foundation; UNICEF; Southern Center for International Studies; American Heart Association; and American Cancer Society's annual Cattle Baron's Ball. Her proudest accomplishment has been helping a disabled young man raise $60,000 in four weeks for The Emory Ataxia Center at Emory University School of Medicine through the "Swimming for Ataxia" Fundraiser.
She received the Emerging Leader of the Year Award from the 500,000 member organization eWomenNetwork in 2006.  In the same year, she was asked to be a headline speaker for the Buckhead Club's "Women on the Move" lunch series.
In her spare time, Lilian enjoys freelance writing, with articles appearing in Forbes.com, Luxury Society, The Village of Merrick Park Magazine, Canadian Jeweller Magazine, Harry Norman Home and several online lifestyle sites.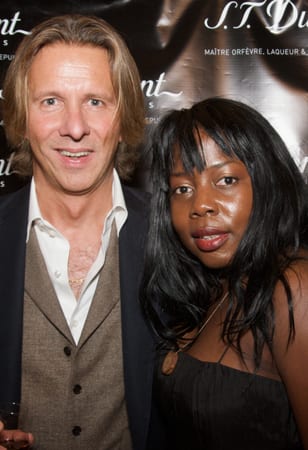 Lilian Raji with our client Alain Crevet, CEO of S.T. Dupont for Launch of S.T. Dupont Boutique at Davidoff Madison Avenue